Early this year, I stumbled on to a blog post by author and speaker Simon Sinek. In his post entitled "Fitting In", he writes about his experience at Comic Con — how it made him realize the lengths to which we'll go to fit in, and why trying hard to fit in isn't a good strategy. I read the post and right away began to think of how this relates to the SQL Server community.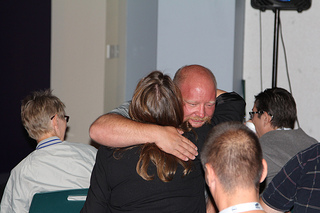 The 2012 PASS Summit begins next week and if you're a first-time attendee, it'll probably be your first immersion into the SQL Community. You may find yourself trying to look or act a certain way to try to fit in. Don't. Resist the urge, the fear that tells you you have to conform. Sinek says rather than working to fit into some group, work to find the group in which you already fit. Many people — myself included — have found that the SQL Server community is a group in which we already fit. We all love working with SQL Server and we love data. If we didn't, we wouldn't commit to 3-5 days of intense learning about it. We can reason therefore, the people you'll meet next week are as serious and dedicated to their work as you are.
Of course, we have different interests outside of SQL Server, but when you find someone who shares one of those interests, it makes your common bond that much stronger. For example, I'm a fan of film scores and composers like Jerry Goldsmith, James Horner, and Michael Giacchino. It happens that Mike Fal (b | t) is also a fan of that same subject. Discussing film scores is how Mike and I became friends. Allen White (b | t) and I talk about show tunes, Jes Borland (b | t) and I talk about running, and Steve Jones (b | t) and I play baseball together. None of that would have happened if I didn't put myself out there and share my outside interests with others.
(Also, there are a lot of people who like Star Trek.)
(You'll see.)
I let some of my personality show at the Summit last year but still held back for fear of rejection or not fitting in. This year, I'm going to fearlessly be me and it's going to be wonderful. I suggest you do the same. Be yourself. Be comfortable. This is, as Sinek says, the group in which you are the norm.
A Word About SQL Karaoke
From what I've seen, karaoke at the PASS Summit has blown up to a much bigger deal this year. If you're a first-timer, you may wonder if the singing is competitive or only for the talented. It's not. It's just really fun and really popular. If you can't carry a tune very well, don't worry. Neither can I. Just enjoy yourself whether you decide to sing or not. That's the whole point anyway.
See you in Seattle, my friends.
Note: This post originally appeared at douglane.net.